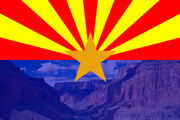 The Arizona Raiders are a raiding group based of the cities Phoenix and Tucson. Due to limited resources and lack of ability to farm, this group goes on major war party attacks on other cities to take them. While they patrol the area, the newly acquired regions are ruled by triumvirates familiar with the region. 
Subdivisions
Edit
Phoenix Metro Area
Tucson
Yuma
New Vegas (Vassal)
Inland Empire (Vassal)
Papago National Guard

Edit
Papago Armoury
Luke Air Force Base
Yuma Proving Grounds
Barry M Goldwater Range
Davis-Monthan Air Base
Camp Navajo
Fort Huachuca
MCAS Yuma
Ajo Air Base GATR
Kingman Air Force Station GATR and Transmission
Thunderbird National Guard
Tucson National Guard Air Base
Sahuarita Air Force Range
Desert Training Center
Mount Lemmon Air Station GATR and Transmission
Laguna Airfield at Yuma Proving Grounds
Williams Air Force Base and Training facilities) (Closed)
Winslow Air Station (Closed)
New Vegas
Edit
Nellis Air Base
Creech Air Base 
Indian Springs Air Fields (Closed)
Nevada Test and Training Facility
Groom Lake
Tonopah Test Range
Inland Empire Region
Edit
Naval Air Facility El Centro
Chocolate Mountain Gunnery Range
Twentynine Palms
MCLB Barstow
NAWS China Lake
Edwards Air Base
Mach Air Reserve Base
Fort Irwin
Education
Edit
Northern Arizona University
Grand Canyon University
Emory Riddle University
Arizona State University
University of Arizona
Arizona Christian University
Various community colleges
Community content is available under
CC-BY-SA
unless otherwise noted.