Empire of Brazil

Império do Brasil

Capital
Rio de Janeiro
Official Language
Portuguese
Religion

Catholic

Government

Constitutional Parlamentary Monarchy

Parliament
Imperial Parliament of Rio: Imperial Senate and Deputies Congress
Emperor
Dom Pedro V (ATL II of Brazil)
Currency
Portuguese Real (under changing process)
The Empire of Brazil (Know as Império do Brasil, or simply Brazil) is a nation in South America and official successor of the Portuguese Empire, assuming its military and colonies. It was affected by several rebellions util the portuguese court arrival during Napoleon conquest of Portugal. After the arrival of the king, Rio was under a urbanistic reform to fit the padrons demanded by the king itself. 
Provinces and Territories
Edit
Brazil has exactly 20 provinces since the annexation of Uruguay as the Cisplatine Autonomous Province and one territory: Paraguay(capital: Asunción)
Province  /  Capital
Grã Amazônia - Manaus
Grão Pará - Belém
Maranhão - São Luís
Ceará - Fortaleza
Pernambuco - Recife
Mato Grosso - Cuiabá
Goiás - Goiania*
Bahia - Salvador
Sergipe - Aracaju*
Mato Grosso do Sul - Campo Grande*
Minas Gerais - Ouro Preto
Espírito Santo - Vitória
Paraná - Curitiba
São Paulo - São Paulo
Rio de Janeiro - Rio de Janeiro
Santa Catarina - Desterro(Florianópolis)
Rio Grande - Porto Alegre
Cisplatine - Montevideo
Tocantins - Palmas*
Acre - Rio Branco*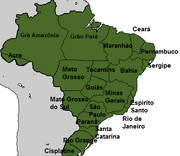 * = under construction
Community content is available under
CC-BY-SA
unless otherwise noted.