This empire is the most organized Imperial state in Anatolia and the Southern Balkans, Ethnically is mainly greek composed as well as by Some slavic Populations such as Serbian and macedonian citizens within the empire.
The Empire was founded in Early 2020's as the Greek Kingdom of Thessalonika invaded the Turkish controlled Istambul Krallikate, It was founded by Alexandros Theodokoupulos
Theodokoupulos Dynasty 2020 - 2137
Edit
one of the longest running dynasties that aroused after the black out of 1980 it was started by Alexandros Theodokoupulos who Declared independence from the Thessalonican Kingdom in January of 2021 after the war with the Krallikate was finished, he achieved to gain independence after the battle of Hadrianopolis in which Alexandros successfully asserted byzantine control over thrace and later over bitinia,by the end of his reign most of Northwestern turkey was under his control.
Arkadios Dynasty 2137 - 2259
Edit
The dynasty starts in the civil war of the decade of the seven emperors, in which the weakened empire its divided by three emperors and 4 Kings, by the end of the civil war all declared to be the rightfull heir to the throne of the byzantium but only the Ruler of Trebizond manage to take control of the Eastern rome. he started the war against the caliphate of Syria and aided the Carthage Kingdom to fight the Caliphate Maghrib in 2145.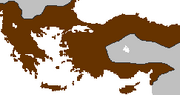 in its greatest extent the Empire held most of anatolia and parts of OTL syria as well as all of greece and parts of Bulgaria and Serbia.
Community content is available under
CC-BY-SA
unless otherwise noted.