Palmiro Togliatti
Ercole Ercoli

Game: Ravaged world- the Hitlerian hell (map game)

General Secretary of the Italian Communist Party
In office
November 1926 - Incumbent
Predecessor
Antonio Gramsci
Spouse
Rita Montagnana (1924)
Issue
Aldo Togliatti (1929)

Marisa Malagoli (1944; adopted)

Nicknames
Ercole Ercoli


Il Migliore (The Best)

Nationality
Italian
Born
26 March 1893
Genoa, Italy
Occupation
Journalist
Palmiro Togliatti, better known under his nickname
Ercole Ercoli
, is the Leader of the Italian Communist Party since late 1926, as well as one of the most important figures of Italian Resistance against Fascism. He was nicknamed by his supporters
Il Migliore
(The Best).
Early Life
Edit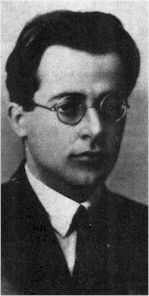 Born in Genoa to a middle-class family, Togliatti began his political life in the Italian Socialist Party prior to the First World War. He served as a volunteer officer during the war, and was wounded in action and sent home for illness. Returning at the end of the conflict, he was a part of the group around Antonio Gramsci's L'Ordine Nuovo paper in Turin, while working as a tutor.
He was a founding member of the Communist Party of Italy (PCd'I, later PCI) and, after Gramsci was jailed by Benito Mussolini's Fascist regime, he became the senior leader of the PCd'I until his death, for which he also directed Il Comunista.
Exile and Return
Edit
When the party was banned by the Italian Fascist government in 1926, Togliatti was one of few leaders not to be arrested, as he was attending a meeting of the Comintern in Moscow. In exile during the late 1920s and the 1930s, he organized clandestine meetings of the PCd'I at Lyon (1926) and Cologne(1931). In 1927 he took the position of Secretary of the party.
In 1935, under the nom de guerre Ercole Ercoli, he was named member of the secretariat of the Comintern. In 1939 he was arrested in France: released, he moved to the Soviet Union and, remained there for three years, broadcasting radio messages to Italy, in which he called for resistance to Nazi Germany and the Italian Social Republic.
He returned in Italy in 1944 as the Germans were approching, and with the support of both USSR and his fellow Communist in Italy, he was able to return to his country unseen by the autorities. He then lead the Resistance against Mussolini and Fascism in hope of one day ending the Dictatorship in favor of a Communist Italy. The communist resitance took control of the region surrounding the city of Trento in early 1948, making it their headquarter for the war. Ercoli then proclaimed it the Italian People's Republic in later that year.
Community content is available under
CC-BY-SA
unless otherwise noted.