Imperial AK47 Or Invention of AK-47 By Britain And USA All Countries Imported AK-47 And Major Countries.
United Kingdom:
United States:LauraBridgitMendez (talk) 09:03, June 29, 2014 (UTC)
Mexico
Colombia
Venezuela
Brazil
Ecuador
Uruguay
Bolivia
Russian Empire
Qing Dynasty
Portugal
Spain
France
Austria-Hungary
Prussia:Josiah Cervo7401 (talk) 10:02, October 09, 2016 (UTC)
Bavaria
Denmark
Sweden
Norway
Japan
Iran
Ottoman Empire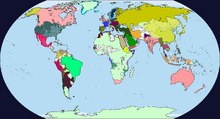 Year 1830 Britain Scientist Makes His Own Gun And Bring to Factory And Shops To Invent AK-47
Britain:British Government Invents AK-47 By Scientist And Gunman to Trade In Wars And Involving Wars in Fighting Countries And Through Centuries.
USA:USA Fails to Annex Mexico But Mexico Sign a Deal And Continues Use of AK-47 Against Native Americans.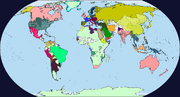 Prussia:
Prussian Empire is Born And Used AK-47
Hamburg:Empire of Hamburg Expanded and Conquers Morocco And Expanded into New Colonies
Russian Empire:Russian Empire Signs Treaty after War Against Qing Dynasty Qing Cedes Mongolia, East Turkestan, Chinesse Qing Territories to Russia
Prussia:
Prussia Controls Egypt And Jeddah Soon
Prussia Expanded into New Colonies in Africa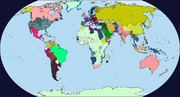 USA:USA Plunges Into Deadly Civil War By Confederates And CSA Fights Back into Chaos.
Prussia:
Prussia Expands And Colonize Africa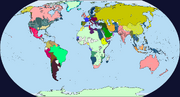 Greece:Greece Expands And Colonize Somalia Called Orya
Ethopia:Ethopia Expanded into Larger Sea
France:France Expands
Mexico:Mexico Expand into Pacific hawaii
Netherlands:Netherlands Re-Colonizes Africa
Prussia:
Prussia Annexed Eygpt And Expands And Colonizes Africa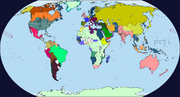 France:France Colonizes Africa
Community content is available under
CC-BY-SA
unless otherwise noted.