Lithuania reffers to An_Alternate_1921_Map_Game
Country territories
Country owns regions of (old region names): Lietland, Little Lithuania, Upper Mazovia (only part), Kurland, Estlandet, Gotland, Gotaland, Svealand.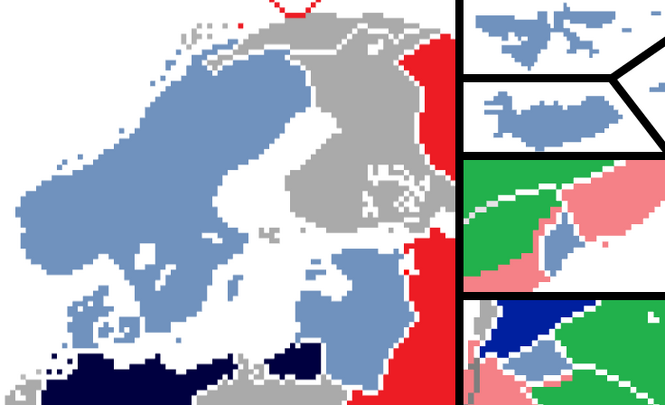 Home Affairs, Foreign Affairs and Economy.
Lithuania is communist country (since 1931) with capital in Kaunas. Ruled by Jonas Zemaitis. Lithuania has about 20'100'000 citizens. It has good and growing economy (class 3) and good army (class 3). Country has trading agreements with USSR, Great Britain, Japan and Germany. Military alliance with USSR and Britain. Non-Aggression Pact with Poland.
Infrastructure and production: Factories and good airports in all important cities (see below). Many towns have their own low quality airports and military barracks in case of war. Railways connects biggest cities. Resources industry mostly produces food. Also coal is bought from USSR and refined. Iron and oil mined/drilled in Svealand and Norrland. Economical fleet transports goods and lets Lithuania trade with far-away countries.
Most important cities: Kaunas***, Riga**, Tallinn**, Stockholm**, Copenhagen**, Reykjavik**, Gothenburg**,Lulea**, Memel**, Vilnius**, Panevezys*, Malmo*, Parnu*, Daugavpils*, Liepaja*, Helsinborg*, Trelleborg*, Visby*, Norrkoping*, Linkoping*, Uppsala*, Siauliai, Marijampole, Telsiai, Jelgava, , Tartu, Narva, Viljandi.
Military
Lithuanian military is divided into: Lithuanian Armed Forces (LAF), Air Force of Lithuania (AFL) and Lithuanian Navy. With LAF HQ in Kaunas and AFL, Navy HQ in Riga. 
LAF
| Kind of infantry: | Present |
| --- | --- |
| Infantry (fully equiped) | 585'000 Lithuania |
| Expeditionary forces | 50'000 Lithuania |
| Desert Legion | 350'000 Arabia |
| LT-6 Main battle tank | 1500 |
| T-26  Tank | 25 |
| RailGuns | 5 |
| ArmaOne | 3000 |
| Artillery guns | 3000 |
AFL
| Polikarpov_I-5 fighters | 60 |
| --- | --- |
| AFA Fighters | 2000 |
| ABA Bombers | 2000 |
| "Zaibas" Helicopters | 50 |
Navy
Major Events
1930 Coup D'etat in Lithuania, Antanas Smetona goverment overthrown, Jonas Zemaitis starts his office.

Lithuanian Armed Forces officially formed.
Industrialisation started.Ultimatum for Latvia, Latvia is anexed by Lithuania.
Air Force of Lithuania formed
5 trade agreements signed.
Referendum about communism.
Proposition of Vilnius region.

1931 Lithuania decides to become communist country. Industry and property is nationalised.

Political alliance is signed with USSR.
Estonia refuses offer, Lithuanian Armed Forces enters Estonia and surrounds biggest cities.
Anti-Lithuanian organisation established. Members are mostly former Latvia and Estonia citizens.

1932 Estonia was anexed and became part of Lithuania.

First resistance of Latvian nationalists started by Karlis Ulmanis.

1933 Second LERO resistance.

Big navy project started.
First Lithuanian tank LT-1 introduced to army.

1934 Vilnius reunited with Lithuania.

Commanders of LERO executed in Estonia.
Lithuania (OTL regions) fully industrialised, country reached economy/military cayegory level 2.

1935 Military alliance with USSR. Lithuania-Sweden war started.

Gotland captured, Gotaland lost because of Swedish counterattack.
Sea blockade of Stockholm started.
Navy project is almost completed.

​1936 Minor fails in Operation Svealand but everything goes ok.

​Navy project finished.
POW army formed.
 Operation Svealand temporarily stoped because of some problems.

​1937 Operation Svealand is inactive, troops being relocated to Lithuania mainland to help USSR fight poles.

War declared on Poland, after first battle Lithuania captures some lands.
USSR experiences it last defeat in Poland.
Embargo of Arab Confederation.

1938 Lithuania and allies won the war of Poland.

Treaty of Kiev signed.
Lithuania disbands militia.
Operation RailBeast started.
Community content is available under
CC-BY-SA
unless otherwise noted.