Welcome to the Map Game Wiki,

We currently have

1,256

articles, and look forward to growth!


How You Can Contribute
Hello and welcome to the Map Games Wiki!
Many people play map games on the
Alternate History Wiki
. Map games are a popular phenomenon on many sites, so I thought it needed a true activity hub!
Basically, map games are a user collaborative alternate history type game in which a starting map is posted by the game's creator. The players take turns making changes to the map and posting a series of dated alternate historical events beneath it as they act out there plans to run the world and outsmart their rival at military, economy, political and exploration plans (like if they were a real head of state).
Here you can set up any map game you like weather it's a real life, plausible alternate reality based one, ASB, TV franchise, video game, Touhou or cartoon related. All fun and intriguing games are also welcomed. Feel free to add a link on this page, naming your game and create the page using the link or just join in with an existing one.
Please read and adhere to the Conventions in use in this wiki before you start contributing!
Do not directly copy from the Alternate History Wiki. Its contents are copyrighted! Making a reference of origin does not clear it. Note that this is because they consider it to be stealing. Free images and photos can be used if they are attributed.
Research and map/photo finding can be done at Wikipedia.


Current Map Games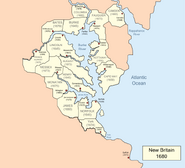 Welcome to Settlers of the New World, a map game based on the early years of English colonization of the Americas. Begin by guiding your settlers through the establishment of a colony, settlements, and later American states. This game begins in the early seventeenth century, and allows you the opportunity to play as a trade company or proprietor of a colony in the (alternate) new world... (More)
Welcome! It's the year 1898. In Africa, Great Britain and France are at dangerous tension after the Fachoda Incident. Meanwhile, in America and Asia the spaniards try to maintain their last posessions against the American threat. Which nation will have the right to assert itself as the dominant power? " (More)
Message the admins if your game has not been added here.