1800, Napoleon Bonaparte has just tooken power in France, but not many countries like him.. War is looming. You must rule your country for the better.
be plausible
one country per person
game starts 1800
One turn is one year
Game ends 1875
I will be the only mapmaker
Game will archive every 15 years
No LoN
Till 1825, map is of Europe, then the world.
New map every 5 turns.
Add all complaints and ideas to the talk page
Bonaparte's AlliesEdit
Dutchy of warsaw:
Italy:
Naples:
Spain:
Denmark-Norway:
Swiss Confederation:
The ColliationEdit
United Kingdom: The old baby (talk) 14:23, December 27, 2012 (UTC)
Austrian Empire:
Sicily:
Papal states:
Portugal:
Sardina :
Sweden:
Hanover:
Russia:
Ottoman Empire:
Prussia: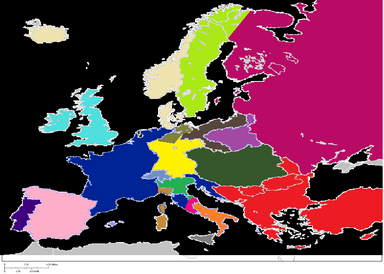 game starts with 7 players
Community content is available under
CC-BY-SA
unless otherwise noted.