| | |
| --- | --- |
| | This Map game is now closed since it was not edited for 7 days in a row! |
The year is 1953, Communism has completely engulfed much of the Asia-Pacific. The United States, Empire of Japan, and Australia are the only nations standing in the way of a complete communist takeover. Small pockets of Anti-communist resistance has opened up lately are a fighting back. Take sides as a communist nations or an anticommunist nation or anticommunist resistance force to decide whether  Communist will take over the Asia-Pacific or will the Capitalist nations prevail. 
WILDSTARSKAORI (Head mod)
Playable Communist Nations & Groups
Edit
Chinese Aligned Communists
Edit
Soviet-North Korean aligned communists
Edit
Non-aligned Communists
Edit
Playable Anticommunist Nations & Groups
Edit
United States of America
Union of Soviet Socialist Republics
Multiple Player Controlled Organizations
Edit
Pacific Maritime Defense Federation (Playable for those nations who have joined this Federation; mods within this group will decide the turn)
NPC's cannot launch nukes at anyone
Only mods can be NPCs
NPCs do not directly play turns, they will only have turns when requested by the playable nations
No peaceful mergers, it's an all out war.
Turns go by 3 months
The map will be updated every 2 years (8 turns)
You may only play as a terrorist group IF THEY EXISTED IN REAL LIFE.
RNGs GOES AS FOLLOWS: EVEN NUMBERS FOR YES, ODD NUMBERS FOR NO.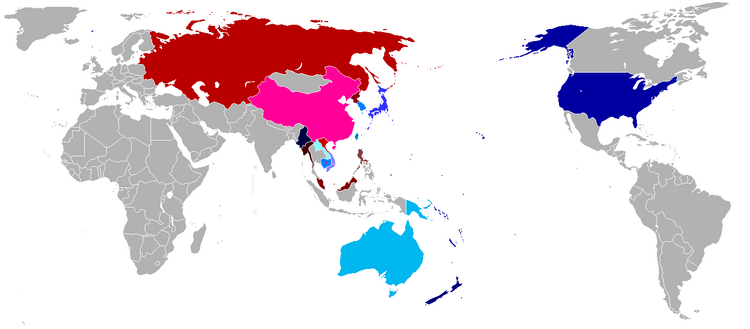 Mapmaker: The map is to updated every 2 years (8 turns)
Background: After the Korean War, communism began a steady rise in East Asia. Soon, most of East and South East Asia fell to communism with very few democratic nations left. But soon, some small pockets of anticommunist resistance has opened up and opened the doors for the US and its democratic allies to restore democracy to East Asia. 
WELCOME TO PACIFIC CHAOS!! THE KOREAN WAR HAS JUST FINISHED AND TWO NATIONS HAVE BEEN MADE, THE PEOPLE'S DEMOCRATIC REPUBLIC OF KOREA AND THE REPUBLIC OF KOREA. BOTH NATIONS STILL CONSIDER THE WAR NOT FINISHED AS A DMZ IS FINALIZED AT THE 38TH PARALLEL. 
Malaysia:We rage war on the Khmer Rouge send 15,000 men to invade Cambodia.
Community content is available under
CC-BY-SA
unless otherwise noted.