It's 1700, the colonial era hits a kick start, everyone is aiming for land in the new world, how much is yours? prepare!
| | |
| --- | --- |
| | This Map game is now closed since it was not edited for 7 days in a row! |
Game starts when 8 people sign up
One country per person
Must be plausible
Turn is one year.
Game is archived every 20 years.
Game ends 2013, or when everybody stops playing
No Nukes, it's early modern times!
You control your colonies
One turn, per day.  
complaints go on talk page!
Moderators
Edit
Mod: The old baby (talk) 23:39, January 13, 2013 (UTC)
Mapmaker: Whipsnade (talk) 01:58, January 14, 2013 (UTC)
Spanish Empire: The old baby (talk) 23:41, January 13, 2013 (UTC)
French Empire: Sine dei gloriem (talk) 02:42, May 9, 2013 (UTC)
Holy Roman Empire
Dutch Empire
Ottoman Empire
Qing Dynasty: Ninjasvswarriors (talk) 07:17, May 21, 2013 (UTC)
Mali Empire
Axium
Buganda
Kongo Kingdom
Papal States
Saxony
Venice
Naples
Sardinia
Kingdom of Dahomey
Ethiopia
Kongo Empire The River Nile-2 (talk) 20:43, January 16, 2013 (UTC)
Nkore
Dafur 
Siam
Annam
Khmer Empire
Shogunate of Japan - Kogasa
Ryukyu Kingdom82.27.28.239 16:51, May 11, 2013 (UTC)
Korea (Joseon Dynasty)
Mughal Empire:Warman555
Sirmur 
Denmark–Norway
Hungary
Mantua 212.143.93.29 16:51, May 11, 2013 (UTC)
Modena
Parma 90.244.83.191 16:50, May 11, 2013 (UTC)
Sicily
Swiss Confederation
Tuscany
United Provinces of the Netherlands  
Morocco
Safavid Dynasty Violently Calm (talk) 01:03, May 14, 2013 (UTC)
The Golden Horde
Duchy of Prussia
Persia
Milan
Monaco
Andorra
San Marino
Venice
Delhi Sultanate

Your posting lays bare the truth!

Free Irish Kingdom: DannytheKing

If you want to play a nation missed off the list, you can add it.
AlgorithmEdit
State of Economy: +10 (Flourishing), +7.5 (Okay), +5 (Mild), +2.5 (Poor), 0 (Non-existent or collapsing)
Many or major defences and fortified places: + 10
War Weariness: -5 Every turn while in war, after the first turn
Technology: 0-10; with 0 being the worst, 5 being normal and 10 being ahead of time.
Knowledge of landscape: +20 for in one's homeland, + 10 for warring in an adjacent nation, -1 for low knowledge of an non-adjacent lands which are on you continent, -10 for no knowledge of a distant realm that is not even on your continent.
Morale: -10 In face of larger army, - 20 for completely surrounded, +5 for in face of a smaller army, +10 for surrounding enemy
Storming on to a coastline from the sea or on to an island, the attacker - 10 and defender + gains 10.
Storming in to a desert or jungle the, attacker - 10 and + defender gains 10.
Nuclear war gives the atomic user +10 and defender - 10 for Strategic arms or +5 and -5 for tactical arms. +1 to the attacker and -1 to the defender if  the capital is hit
Every nation militarily helping with their side= +1
Religious, ethnic and cultural war motives = + 5 to the attacker.
Economic war motives = + 2 to the attacker.
Tactical Advantage: +5 defender/-3 attacker (for example crossing the Kalahari desert)
Armed expansion in large extremism climates like Greenland, Niger, Nepal and Amazonia will also be very slow due to logistic and climate problems for any wood-be invader. In this case the defender gets an advantage of +5 and the attacker gets a disadvantage of -6
Life or death = + 10 to the nation who is fearing being wiped from history.
Strength: # of troops divided by a factor of 10,000 (i.e, 1,000,000 =100 pints)
Add the totals up and find the biggest total. The biggest wins.
Do this for every turn your warring in.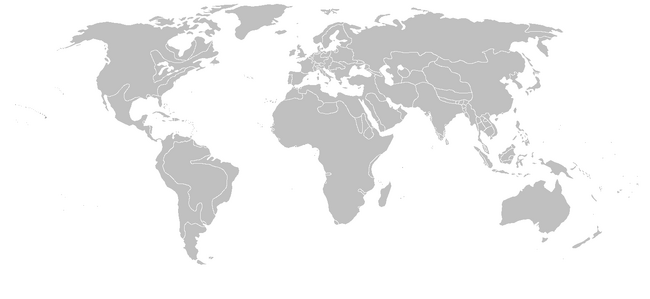 Map usage rules Edit
A few general rules concerning the map as to ensure "image success:"
Always copy the full-size version of the map to avoid pixelation.
Make all nations different colours.
Try to make one for each year.
Coloured circles on nations mean they are a protectorate, client/satellite state, etc. of another nation.
It's not always beneficial to draw border lines willy-nilly; if possible, try to find resources such as on Wikipedia to get inspiration.
Present game map
Edit
.
Community content is available under
CC-BY-SA
unless otherwise noted.