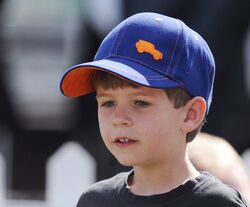 Prince Franz, Duke of Silverwood is the youngest child and second son of Kaiser Heinrich III and Queen Victoria. He is seventh in line to succeed to the throne of Neubayern, after his eldest sister Crown Princess Helena, her children Princess Aria and Prince Nikolai; the Duchess of Hoffmann, and her two adopted sons Prince Natsume and Prince Natsuo of Hoffmann. At birth, he was third in line. His eldest brother, Crown Prince Georg, used to be heir apparent, but after his death Princess Helena became Crown Princess, making Franz third in line.
In 1007, the 11-year-old Prince was involved in an incident during his first state visit with his family to the People's Republic of Mabuda to attend the inauguration ceremony of its first President, Edward Mbudu. After the ceremony, anti-communists opened fire upon the official guests. While there were no deaths, Franz was injured when a stray bullet grazed his shoulder. He was taken to a hospital in Mutero, where his wound was bandaged before he and his family returned to Neubayern to seek more advanced forms of treatment. He was admitted to the Princess Aurora Children's Hospital's Trauma Unit, where he recuperated.
After graduating from Urnsbach Secondary School in 1014, Franz entered Ernsdale Institute of the Sciences in Britannia to study sports sciences. Upon graduation from Ernsdale, Franz returned to Neubayern to serve in the Kriegsmarine.
996 — 1037: His Imperial Highness The Prince Franz of Neubayern
1037 — present: His Imperial Highness The Duke of Silverwood
His full imperial title in German is Seine Kaiserliche Hoheit Der Herzog von Silberwaldland.
Community content is available under
CC-BY-SA
unless otherwise noted.