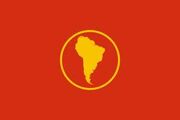 The Republic of South America composes of the former nations of Brazil, Paraguay, Argentina, and Chile.  The capital is located in Asuncion, Paraguay.  Currently the population stands at 365,051,400 citizens in the nation as of 2040. 
The RSA is composed mostly of Amazonian nations, and Pantagola nations.  Much of the territory was not explored until the early 1900's due to the difficulty.
Government
Edit
The Republic of South America is a Democratic Republic with a Senate of the Republic and a National Congress.  The government is headed by a President who is the Chief of State, and the Prime Minister who is the head of foriegn affairs.
Game Stats
Edit
Army Tech: 1.5; Better Training
Navy Tech: 1
Industry Tech: 1; Right to Bear Arms, Organized Militias
The military has approximately 613,626 active military personnel, 414,800 paramilitary personnel, and 1,996,462 reserve troops as of 2040.  They operate modern equipment including the M-92 assault rifle, and maintain an advanced Air Force and Navy.  It is controlled by the Prime Minister and the Senate of the Republic in peacetime for humanitarian aid.
Strength: 511,800 active troops; 329,250 paramilitary (Under the Department of Internal Defense and Affairs); 696,462 reserve personnel
Equipment:
Edit
Main Battle Rife: FMK-19, *M-92
Tanks: M1 Abram (672), *M60 Patton (398)
Armored Personnel Carriers: EE-38 Cascavel VII (219), VBTP-MR (645), AV-VB4 RE 4x4 GUARA (56) 
Motorized Artillery: Palmaria (18), *M-109 (230), *Gepard (812)
Towed Artillery: *M102 (26), *L118 (53), *M114 (286)
Mortars: 120mm M2 RAIADO (200+), M936 81mm ARG (192), M949 60mm ARG
Recoilless Rifes: Model 2029 Recoilless Gun (196), Cañn 155mm (298), *Carl Gustav (493)
Anti-Aircraft: Astros II MLRS (285), FOG-MPM (92), *Oerlikon 35mm twin cannon (23), *RBS 70 (193+)
Anti-Tank: ALAC (2394), MSS-1.2
Transport Helicopters: *EC 725 Caracal (432),
Attack Helicopters: AS565 Panther (73), HB350 Esquilo (19)
Utility: *Land Rover Defender (1829), Agrale Marrua (18,000+), Gladiator BLSR (32), *M-Gator (2000+), Atego (945), *Constellation (29)
Patrol Boats: Guardian 25 (32)
Strength: 28,192 active personnel; 69,450 paramilitary; 492,140 reserve personnel
Equipment:
Edit
Destroyers: Almirante Brown-class (25)
Aircraft Carriers: Clemenceau-class (2), Pantagolia-class (2)
Patrol Boats: NPA Grajaú Patrol Boat (273)
Corvette: Amazonas-class Corvette (9)
Air Force:
Edit
Strength: 73,634 active personnel; 16,100 paramilitary; 298,600 reserve personnel
Equipment:
Edit
Fighters: *F-35 (36), *Dassault Rafale (72)
Ground Attack: AMX International AMXII (172)
Anti-Insurgancy: FMA IA 58 Pucará (62)
Bombers: B-52 (12)
Air Support: Embraer EMB 314 Super Tucano (97)
National Guard:
Edit
Strength: 509,260 reserve troops
(Note: * denotes foriegn made equipment)
Community content is available under
CC-BY-SA
unless otherwise noted.