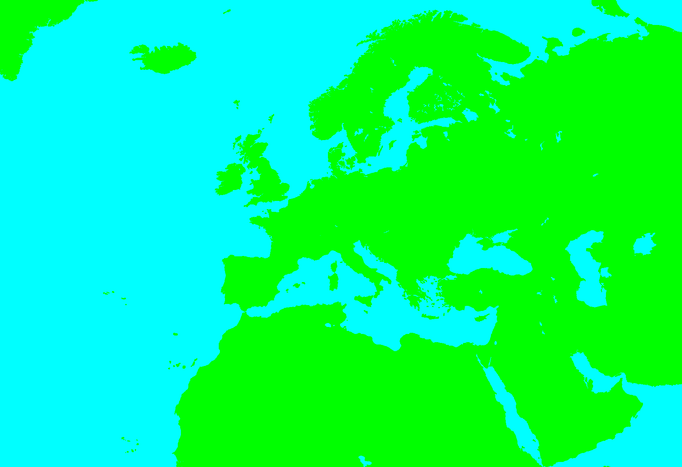 Rise of Civilization takes place right at 3000 BC. No Civilizations made yet, only Culture tribes. Will you make a Glorious Empire that holds through the time, or will you end, and have an awesome legacy? Find it out by playing the game!
Rules
Do not grab too much land in a turn, because we are for many players playing the game.
No mean or rude comments to other people.
Do not be rude, just because a player takes your land you wanted, you still can declare war on them.
If you researched a technology from ancient time, you are free to either share it with the others or only a few, or no one, but spies can steal your technology.
Do not make Technologies like "Tanks", because that doesn't fit here.
Watch the map, and look where is no country.
You are allowed to make Alliances (max. four Nations), because if too many people attack one or two nations, it's unfair.
No OP Turns, no one likes them.
If your defeated, feel free to join as another nation!
If you don't do three turns in a row, you will be warned, after the fourth you will be kicked, but you can rejoin.
you can only do turns after everyone else is done
Staff
Owner: FPÖSupporter
Co-Owner: Wiktur
Admin: AGCWhite
Admin: Free
Admin: Free
NPC Turn Maker: Free
Map Maker: FPÖSupporter
Countries
Rome - FPÖSupporter
Armenia - Wiktur
Bergvin - AGCWhite
Saudi Arabia - Bialy
Finland - Artr
Turn 1
Roman Town
Ruler: Marcus Octavius I.
Capital: Rome
Religion
We create the Religion of Rome, we believe in many Gods (Mars, Venus, etc.) and believe in the chief of the gods, Jupiter.
Diplomacy
We explore the world for an sign of other Civilizations, we are enthusiastic, that we find some, we send some ships in the sea we call "Mediterranean".
Technology
We intervene into Iron Spears and Iron Armor.
Norðrvegr
Ruler: Hermod Odinsson
Capital: Bergvin
Religion
Norse-Thor Odin Frigga Freya etc etc
Diplomacy
we explore the mountains and the sea, which is abundant in fish, we call the sea The North Sea. we meet some tribes while exploring and we are trying to get them to come under our banner.
Technology
We Make better and longer boats and call them Longboats. We also made iron armor and spears.
Armenia
Ruler: Micolay Murckievic
Capital: Yerevan
Religion
Flying Spaghetti Monster Religion
Diplomacy
We Explore (Especially in Sea) and Expand around us.
Technology
We invent Iron spears and and Iron and Gold Armors.
Turn 1 - Map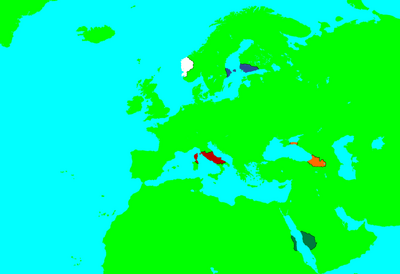 Turn 2
Roman Town (Formerly) - Roman Republic
Ruler: Marcus Octavius I.
Government: Republican Democracy
Duration of a term: five Years, second Term -> ten Years
Religion
We spread over our territories our Belief, to make Jupiter Happy.
Diplomacy
We travel to a Sea we call Pontus and found an strange civilization itself calls "Armenia"
Armenia: Alliance and Trade Agreement?
Military Technology
We found now Armors for our Legionaries, Junior Centurio and Centurio
We also found Shields that look like that: [2]
Also we found the Testudo Formation, so our Troops are more Protected against attacks: [3]
Technology
We found Flags, and the Democracy: Our Flag looks like that: [4]
And also found Ferrum Aurus.
Armenia
Ruler: Micolay Murckievic
Government: Authoritarian-capitalism
Religion
We are spreading Spaghetti all around the sea.
Diplomacy
We want to take whole sea that we call Great Armenian Sea. We accepted Roman's alliance and removed excise for their products.
Military and non-military technology
We found new material that we named gold, and made golden spears and swords. Also, we created a thing we call "Bow"
Finland
Ruler: Abuyin ibn Djadir ibn Omar Kalid ben Hadji al Sharidi
Government: Democratic
Religion
We made law that forces everyone to eat spaghetti at least once a month.
Diplomacy
We legalized Marijuana.
Technology
We're working on advanced medicine. Marijuana is a ery important thing to move forward with this.
Norðrvegr
Ruler: Hermod Odinsson
Capital: Bervin
Government: Monarchy
Religion
We Are Spreading Religion In All Lands We Know About!
Diplomacy
We found a country called "Finland" And we ask for a trade agreement and access through their lands so we can explore more. we have explored everything we could before going east of this "Finland". we have been exploring the sea and found some strange land east of Norðrvegr we have decided to call this land "Skotland" we have been making settlements in this "Skotland" and we are getting some people to learn the language of the people of "Skotland" we have also been gathering more tribes around Hordaland to unify under the Norðrvegr Banner!
Technology
We Made something called a compass, and we found that the point always points north! this will be useful in navigation! We Made a new type of ship we call a Cog.
Turn 2 - Map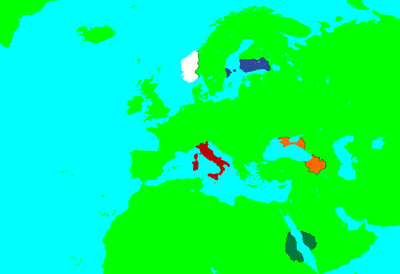 Turn 3
Roman Republic
Religion
We make Neptune to the Co-Leader of our gods, because Neptune is the brother of Jupiter.
Diplomacy
We are going out of the Mediterranean and find two Isles we will call: "Hiberniae" and "Britannia" We colonize Malta, but stop Expanding for now, because we have enough land. We travel even more north, and find the "Kingdom of Northern Land" aka "Vikings".
Technology
We made Ferrum-Aurus Banners for our Beautiful Nation, and found Nationalism.
Norðrvegr
Ruler: Hermod Odinsson
Capital: Bervin
Government: Monarchy
Religion
We Are Spreading Religion In All Lands We Know About!
Diplomacy
We meet these so called "Romans". we request a trade agreement between the two of us. We continue to settle "Skotland" and unifying tribes under our banner.
Technology
We do not make any big leaps in technology but we have perfected what we can about this "compass"