| | |
| --- | --- |
| | This Map game is now closed since it was not edited for 7 days in a row! |
Scenario
Edit
The world has shattered into smaller countries, know as the Great Crisis of 2016. It is not known why some countries shattered, but this has change the balance of power. Now, you are in charge of country, whether it be new or survived the Great Crisis of 2016. The game will begin January, 2017. It will be like my other map games, Modern World and Europa Gloria (Both are still going on and you can still join).
No cursing, inter-player brawling, trolling or foul language.
No racist comments about other players real life ethnic origins.
No Sexist comments about other players real life gender.
I control the AI.
I (Mli048) is the head moderator.
Please be active every 3 days.
No switching countries unless you do not have one.
Have fun!!!
Countries
Edit
Countries are completely the same as in the modern world except for Canada, the USA, Mexico, Brazil, Argentina, South Africa, Nigeria, Ethiopia, Egypt, Algeria, Israel, Saudi Arabia, Iraq, Turkey, Iran, Pakistan, India, China, Indonesia, Japan, Australia, Russia, Poland, Italy, Germany, France, the UK and Ukraine. Simply put your username for what country you want. You can only have one country. Here are the countries that have fallen apart (This shows what these new countries are from):
North America
Edit
Cascadia (British Columbia, Washington, Oregon) Capital: Olympia
Confederate States of America (Florida, Alabama, Georgia, South Carolina, North Carolina, Virginia, Kentucky, Arkansas, Louisiana) Capital: Richmond
The Restored States of America (West Virginia, Washington DC, Maryland, Delaware, Pennsylvania, New Jersey, New York) Capital: Philadelphia
Republic of Texas (Texas, Oklahoma) Capital: Austin
The Quadruple State Confederation (Arizona, New Mexico, Utah, Colorado) Capital: Denver
Republic of California (California, Nevada) Capital: Reno bibleboyd316
The Federation of the Great Plains (Iowa, Missouri, Kansas, Nebraska, South Dakota, North Dakota, Idaho, Wyoming, Montana) Capital: Kansas City User:
Republic of New England (Connecticut, Rhode Island, Massachusetts, Vermont, New Hampshire, Maine) Capital: Boston
Republic of the Great Lakes (Michigan, Illinois, Ohio, Indiana, Wisconsin, Minnesota) Capital: Springfield
Central Canadian Republic (Alberta, Saskatchewan, Manitoba) Capital: Edmonton
Eastern Canadian Republic (Ontario, Nova Scotia, New Brunswick and Labrador) Capital: Ottawa
Republic of Quebec (Quebec) Capital: Quebec City
Northern Canadian Republic (Nunavut, Northwest Territories, the Yukon, Alaska) Capital: Juneau
Greater Polynesian Republic (Everywhere in Oceania except Australia, New Zealand or Papua New Guinea. Hawaii is also part of the country) Capital: Honolulu
Republic of the Yucatan (Tabasco, Campeche, Yucatan, Quintana Roo) Capital: Mérida
The Second Aztec Empire (It is a republic) (Chiapas, Oaxaca, Veracruz, Puebla, Hidalgo, State of Mexico, Federal District (Mexico City), Tlaxcala, Morelos, Queretaro, Michoacán, Guerrero, Colima, Jalisco, Nayarit, Aguascalientes, Quanajauto) Capital: Mexico City
Republic of the Rio Grande (Tamaulipas, Nuevo Leon, San Luis Potosi, Coahuila de Zaragoza, Chihuahua, Zacatecas, Durango) Capital: Ciudad Victoria
Republic of Sonora (Baja California Sur, Baja California, Sonora, Sinaloa) Capital: La Paz
Republic of Honduras (Honduras, El Salvador) Capital: Tegucigalpa
The Caribbean Republic (Made of every Caribbean Country and Territory except Cuba) Capital: Santo Domingo
South America
Edit
Suriname (Suriname, French Guyana) Capital: Paramaribo
The Amazonian Federation (Amapa, Para, Roraima, Amazonas, Rondonia, Acre) Capital: Manaus
Republic of Northern Brazil (Rondônia, Mato Grosso, Mato Grosso Do Sul, Federal District (Brasilia), Maranhao, Piaui, Bahia, Ceara, Rio Grande de Norte, Sergipe, Alagoas, Pernambuco, Paraiba, Goias, Tocantins) Capital: Brasilia
Southern Brazilian Republic (Rio Grande de Sul, Parana, Santa Catarina, Sao Paulo, Minas Gerais, Espirito Santo, Rio de Janeiro) Capital: Rio de Janeiro
The Republic of Buenos Aires (Buenos Aires, Entre Rios, Corrientes, Missiones, Santa Fe) Capital: Buenos Aires
The Southern Argentinean Republic (Tierra del Fuego, Santa Cruz, Chubut, Rio Negro, Neuquen, Mendoza) Capital: Comodoro Rivadavia
The Northern Argentinean Republic (San Jaun, San Luis, La Rioja, Cordoba, Catamarca, Tucuman, Salta, Jujuy, Santiago de Estero, Chaco, Formosa) Capital: Córdoba
Afrikaner Free State (Limpopo, Mpumalanga, Gauteng, Free State) Capital: Pretoria
Republic of the Eastern Cape (Eastern Cape, KwaZulu-Natal) Capital: Pietermaritzburg
Republic of the Western Cape (Western Cape, Northern Cape, North West) Capital: Cape Town
The Republic of Ogaden (Somali) Capital: Jijiga
The Republic of Oromi (Oromia, Addis Ababa) Capital: Addis Ababa
The Ethiopian Republic (Afar, Amhara, Benishangul-Gumuz, Dire Dawa, Gambela, Southern Nations, Nationalities, and Peoples', Harari, Tigray) Capital: Hawassa
Republic of Biafra (Cross River, Abia, Akwa Ibom, Ebonyi, Enugu, Imo, Anambra, Rivers, Bayelsa, Benue) Capital: Enugu
The Republic of Lagos (Lagos, Ogun, Ondo, Osun, Oyo, Kwara, Kogi, Edo, Delta) Capital: Lagos
The Republic of Northern Nigeria (Niger, Kebbi, Abuja, Sokoto, Zamfara, Katsina, Kaduna, Kano, Nassarawa, Taraba, Plateau, Jigawa, Bauchi, Yobe, Adamawa, Gombe, Borno) Capital: Abuja - Warrioroffreedom123
Eastern Algerian Republic (Here is a link for map (They are red): http://mapgame.wikia.com/wiki/Mli048_and_Donjon_Maps) Capital: Algiers
Western Algerian Republic (Link for map (They are red): http://mapgame.wikia.com/wiki/Mli048_and_Donjon_Maps) Capital: Oran
Republic of the Sinai (North Sinai, South Sinai) Capital: Arish
The Nile Republic (Sohag, Assiout, Menia, Giza, Beni Suef, Fayoum, Cairo, Suez, Ismalia, Port Said, Alexandria, Behera, Garbia, Sharkia, Monoufia, Kaliobia, Damietta, Dakhlia, Kafr El Shiekh, Qena) Capital: Cairo
Outer Egyptian Republic (Red Sea, Luxor, Aswan, El Wadi El Gidid, Matrouh) Capital: Hurghada
Republic of Tuscany (Tuscany) Capital: Florence
Republic of Naples (Calabria, Apulia, Molise, Campania, Basilicata) Capital: Naples
Republic of Milan (Lombardy) Capital: Milan
The Venetian Republic (Veneto, Friuli Venezia Giulia, Provincia Autonoma Trento, Provincia Autonoma Bolanzo/Bozen) Capital: Venice
The Genoese Republic (Liguria) Capital: Genoa
Piedmont Republic (Piedmont, Valley Aosta) Capital: Turin
The Second Roman Republic (Lazio, Umbria, Abruzzo, Marches) Capital: Rome
Republic of Greater Catalonia (Andorra, Cataluna, Aragon, Balearic Islands, Comunidad Valenciana) Capital: Barcelona
The Republic of Andalusia (Andalucia) Capital: Seville
The Asturias-Basque Federal Union (Comunidad Foral de Navarra, La Rioja, Pais Vasco, Cantabria, Asturias) Capital: Bilbao
The Kingdom of Castile (It is a parliamentary constitutional monarchy under Felipe VI) (Region De Murcia, Castilla y Leon, Extremadura, Castilla-La Mancha, Comunidad de Madrid) Capital: Madrid
Republic of Galicia (Galicia) Capital: Santiago de Compostela
Federation of the Canary Islands (Canary Islands) Capital: Santa Cruz de Tenerife
The Republic of Brittany (Brittany) Capital: Rennes
The Republic of Normandy (Normandy) Capital: Rouen
Republic of Burgundy-Savoy (Provence-Alpes-Côte d'Azur, Auvergne-Rhône-Alpes, Bourgogne-Franche-Comté) Capital: Lyon
The Republic of Occitania (Occitanie, Nouvelle-Aquitaine) Capital: Toulouse
The Parisian Republic (Centre-Val de Loire, Île-de-France, Hauts-de-France, Grand Est) Capital: Paris
Kingdom of England (England) Capital: London
Scottish Republic (Scotland) Capital: Edinburgh
The Republic of Wales (Wales) Capital: Cardiff
Northern Irish Republic (Northern Ireland) Capital: Belfast
The Bavarian Republic (Bavaria) Capital: Munich
The Republic of the Rhine (Baden-Württemberg, Rhineland-Palatinate, Saarland, Hesse, North Rhine-Westphalia) Capital: Düsseldorf
The Northern German Confederation (Berlin, Hamburg, Bremen, Lower Saxony, Saxony-Anhalt, Schleswig-Holstein, Saxony, Brandenburg, Thuringia, Mecklenburg-Vorpommern) Capital: Berlin Player: General avon
The Republic of Warsaw (Masovian, Lódź, Podlaskie, Lublin, Subcarpathian, Świętokrzyskie) Capital: Warsaw
The Republic of Silesia (Lower Silesian, Opole, Silesian, Lesser Poland) Capital: Krakow
The Pomeranian Republic (Greater Poland, West Pomerania, Pommerania, Warmian-Masurian, K

uyavian-Pomeranian, Lubusz) Capital: Gdansk

The Eastern Ukrainian Republic (Donetsk, Zaporizhzhia, Kherson, Luhansk, Dnipropetrovsk, Kiev, Kiev Oblast, Kharkiv, Poltava, Sumy, Chernihiv) Capital: Kiev
Republic of Crimea (Crimea, Sevastopol) Capital: Sevastopol
The Western Ukrainian Republic (Odessa, Mykolaiv, Kirovohrad, Cherkasy, Vinnytsia, Zhytomyr, Rivne, Volyn, Zakarpattia, Khmelnytskyi, Chernivtsi, Ternopi, Ivano-Frankivsk, Lviv) Capital: Lviv
Northern Caucasian Republic (Krasnodar, Adygeya, Karachay-Cherkessia, Kabardino-Balkaria, Stavropol, North Ossetia-Alania, Ingushetia, Chechnya, Dagestan, Rostov, Kalmykia) Capital: Krasnodar
Eastern Siberian Republic (Primorsky, Sakhalin, Khabarovsk, Jewish Autonomous Region, Amur, Zabaykalsk, Buryatia, Irkutsk, Magadan, Kamchatka, Chukotka, Sakha) Capital: Vladivostok
Western Siberian Republic (Tuva, Khakassia, Yamalia, Nenetsia, Arkhangelsk, Khantia-mansia, Tomsk, Omsk, Krasnoyarsk, Altai (Krais), Altai (Republic), Kurgan, Tyumen, Sverdlovsk, Chelyabinsk) Capital: Yekaterinburg
People's Republic of Leningrad (Saint Petersburg, Murmansk, Karelia, Komi, Vologda, Kirov, Leningrad, Novgorod, Pskov) Capital: Saint Petersburg (Renamed to Leningrad)
The Soviet Republic of Muscovy (Voronezh, Tambov, Ryazan, Nizhny Novgorod, Smolensk, Tver, Yaroslavl, Kostroma, Moscow (Federal City), Ivanovo, Vladmi, Moscow (Oblast), Bryansk, Kursk, Belgorad, Lipetsk, Kaluga, Oryol, Tula) Capital: Moscow
Democratic Republic of the Volga (Astrakhan, Volgograd, Orenburg, Saratov, Samara, Bashkortostan, Perm, Mari El, Udmurtia, Penza, Tatarstan, Ulianovsk, Chuvashia, Mordovia) Capital: Volgagrad
People's Republic of Manchuria (Inner Mongolia, Liaoning, Jilin, Heilongjiang) Capital: Shenyang
Democratic Republic of Northern China (Gansu, Shaanxi, Ningxia, Shanxi, Henan, Shandong, Hebei, Tianjin, Beijing) Capital: Beijing
The Theocracy of Tibet (Xinjiang, Tibet, Qinghai) Capital: Lhasa
People's Republic of Southern China (Macau, Hong Kong, Shanghai, Yunnan, Guangxi, Sichuan, Guizhou, Chongqing, Hubei, Henan, Anhui, Jiangsu, Jiangxi, Guangdong, Zhejiang, Fujian) Capital: Nanjing
Republic of Tawian (Tawian) Capital: Taipei
Republic of Hokkaido (Hokkaido) Capital: Sapporo
Kingdom of Japan (Tokyo, Chiba, Yamanashi, Kanagawa, Saitama, Nigata, Gunma, Ibaraki, Tochigi, Fukushima, Aomori, Iwate, Shizuoka, Akita, Yamagata, Miyag, Naganoi) Capital: Tokyo
Republic of Southern Japan (Toyama, Gifu, Aichi, Fukui, Ishikawa, Shiga, Mie, Nara, Kyoto, Hyogo, Osaka, Wakayama, Tottori, Okayama, Hiroshima, Shimane, Yamaguchi, Kagawa, Tokushima, Ehime, Kochi, Yamaguchi, Oita, Fukuoka, Saga, Nagasaki, Kumanmoto, Kagoshima, Miyazaki) Capital: Kyoto
Okinawa Federation (Okinawa) Capital: Naha
Republic of Sumatra (Sumatra) Capital: Medan
Republic of Borneo (Borneo) Capital: Kota Kinabalu
Republic of Java (Java) Capital: Jakarta --Hexarafi
Eastern Indonesian Republic (Sulawesi, Indonesia part of New Guinea, Bali, North Sulawesi, North Maluku, Maluku, East Nusa Tenggara) Capital: Makassar
Republic of Assam (Assam, Nagaland, Manpiur, Sikkim, Bhutan, Arunachal Pradesh, Meghalaya, Mizoram, Tripura) Capital: Dispur
The Kashmir Republic (Jammu and Kashmir both India and Pakistan, India Punjab, Himachal Pradesh, Uttarakhand) Capital: Srinagar
Republic of Mumbai (Rajasthan, Andhra Pradesh, Tamil Nadu, Karaikal, Telangana, Gujarat, Diu, Maharashtra, Goa, Karnataka, Mahe, Lakshadweep) Capital: Mumbai
Republic of the Ganges (Haryana, Delhi, Madhya Pradesh, Odisha, West Bengal, Bihar, Jharkhand, Chhattisgarh) Capital: New Delhi
Islamic Republic of West Pakistan (Pakistan Punjab, Sind, Islamabad, Khyber Pakhtunkhwa) Capital: Islamabad
Islamic Republic of Baluchistan (Balochistan,  Federally Administered Tribal Areas, Sistan and Baluchestan) Capital: Quetta
Southern Islamic Republic of Iran (Chaharmahal and Bakhtiari, Fars, Kerman, Hormozgan, Kohgiluyeh and Boyer-Ahmad, Yazd, Bushehr) Capital: Shiraz
Greater Republic of Khūzestān (Khuzestan, Luristan, IIam, Al-Basrah) Capital: Ahvaz
The Republic of Kurdistan (Dohuk, Arbil, Al-Sulaimaniyah, Kirkuk, Nineveh, Salah al-Din, Kermanshah, Hamadan, Kurdistan, West Azerbaijan, Hakkâri, Şırnak, Batman, Mardin, Van, Siirt, Bitlis) Capital: Mosul
Republic of Iraq (Al-Anbar, Karbala, Al-Najaf, Babil, Baghdad, Diyala, Wasit, Misan, Thi Qar, Al-Qadisiyah, Al-Muthanna) Capital: Baghdad
The Republic of Southern Azerbaijan (Ardabil, East Azerbaijan, Zanjan, Gilan, Qazvin) Capital: Tabriz
Islamic Republic of Northern Iran (Markazi, Qom, Tehran, Albroz, Mazandaran, Golestan, Semnan, South Khorasan, North Khorasan, Razavi Khorsan) Capital: Tehran
Republic of Istanbul (Map Link (they are green): http://mapgame.wikia.com/wiki/Mli048_and_Donjon_Maps) Capital: Istanbul
Republic of Ankara (Map Link (They are blue): http://mapgame.wikia.com/wiki/Mli048_and_Donjon_Maps) Capital: Ankara
The Northern Turkish Republic (Map Link (They are Red): http://mapgame.wikia.com/wiki/Mli048_and_Donjon_Maps) Capital: Samsun
Eastern Turkish Republic (Map Link (They are purple): http://mapgame.wikia.com/wiki/Mli048_and_Donjon_Maps) Capital: Şanlıurfa
Republic of Palestine (Palestine occupied territory, Jerusalem, Israeli Southern District) Capital: Jerusalem
Republic of Israel (Israeli North District, Haifa, Israeli Center District, Tel Aviv) Capital: Tel Aviv
Kingdom of Mecca and Medina (Asir, Makkah, Bahah, Madinah, Jizan, Najran) Capital: Mecca
Kingdom of Central Arabia (Tabuk, Jawf, Northern Borders, Ha'il, Qasim, Riyadh) Capital: Riyadh
Kingdom of Eastern Arabia (Eastern Province) Capital: Dammam
Oman: Chiltern Hills1 (talk) 23:00, November 29, 2016 (UTC)
Republic of Tasmania (Tasmania) Capital: Hobart
Eastern Australian Republic (Queensland, New South Wales, Victoria, Australian Capital Terrioty) Capital: Canberra
Western Australian Republic (South Australian, Western Australia, Northern Territory) Capital: Perth
Those were the new countries that don't exist in the real world. All other countries still exist, despite their foreign relations were change. For example, while North Korea has new relations, their borders remain unchanged. If you have question about countries information, ask me in this page's talk section. This is included their army, foreign relations, population, etc. If you want to play as none of the new countries above, enter your country down here: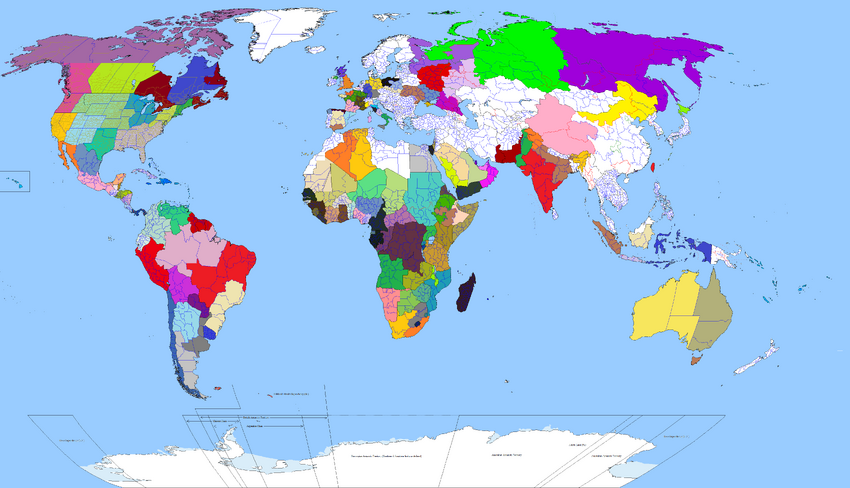 .
Map under construction.Chiltern Hills1 (talk) 15:49, November 23, 2016 (UTC)
January:
Edit
Game has started!
Northern Nigeria: We work on self suffiency and rooting out corruption. Our industries our mobilized to their fullest potential. We make sure that our Oil Money is being invested to build sustainable infrastructure. We also plan to reverse-engineer T72 tanks as Abu Bakr tanks. We are already manufacturing Igirigi APCs as the Badr Armored Vehicle. We plan to build solar panels all across the nation. We also create Vision 2030, with a plan to modernize our capital, Abuja. Our supreme leader, Muktar Ahmed Mohammed Aruwa, plans to reunify Nigeria and get Nuclear Weapons to protect us from foreign powers. We plan on reunifying peacefully when the rest of Nigeria sees our successes. We mercilessly strike Boko Haram insurgents with F7 fighter, and Alpha Jet light attack/trainer jets.
Minister of Defense (Northern Nigeria): We have results from our recent strike against Boko Haram; 1,623 Boko Haram soldiers are killed or injured. We also are developing a 8 KT Bomb that will take 1 year and 2 months. I suggest that we should put garrisons at villages near Boko Haram.
CSA: We consolidate our territory and we mobilize our armed forces. We station the Confederate army on the Texan and Marylander border. We also prepare naval and marine forces for an invasion of Cuba. The CSA plans to dominate the North American continent in 30 years.
February
Edit
Chad: We offer a joint operation with Northern Nigeria, Cameroon and Niger to fight Boko Haram, who has bending around Lake Chad. The operation will be know as Operation Free Lake Chad and will be done next month, in March.
**Nigerian Diplomacy: We accept the offer.
Northern Nigeria:
The Nuclear program continues as planned, and we have produced an Abu Bakr tank prototype. We propose a West African Community with Cameroon, Chad and Niger. The industries are maximized to their fully extent, and the Oil money is used to build industry. Money is redistributed across the population, while we strike hard on corruption. Muktar Ahmed Mohammed Aruwa, the supreme leader, creates a 3 million strong reserve militia Iranian basin - style force to raise a peoples resistance against Boko Haram. We locally produce a heavily modernized version of the AK47, with tactical rails and black furniture, while 7.62 rounds are mass produced across the nation. We set up a organization, the Committee of Nigerian reunification, which intends to negotiate with the lagos republic on reunification.
Cameroon, Chad, Niger: We agree to join in the newly created West African Community (WAC). Ghana, Benin, Togo, Liberia and Senegal would like to join.
**Nothern Nigeria Diplomacy: we accept the people who want to join.
Lagos: We do not want unite yet, until northern poverty, Boko Haram, and other issues are token care of in Northern Nigeria. We also are incredibly wealthy, creating Lagos 2037, making Lagos a world city with huge financial ties across the globe and at least 100 skyscrapers taller then 10 stories by 2037, 20 years from now.
**Northern Nigeria Diplomacy to Lagos: We are fighting poverty very effectively, with the oil wealth being redistributed across the populace now with the anti corruption campaign. On top of that, we are fighting Boko Haram very effectively and are now producing prototype Abu Bakr tanks (T72). You should join us for a superior military protection and greater natural resources. However, we are patient and can wait.
CSA: We prepare our armed forces for an invasion of Texas. We also begin planning our naval forces for the Cuban invasion.
Chad: We began Operation Free Lake Chad, it is very effective, however, Boko Haram is fleeing into the Chad desert. They are out of Cameroon and almost gone in Northern Nigeria and Niger.
Nigeria: The Abu Bakr Tank enters full production. Nuclear program continues as usual. Our fight on poverty and corruption is beginning to take effect, and the Government announces a housing project. We aim to create 5000 apartment buildings, and 10,000 houses with solar panels every year. We root out the last remnants of Boko Haram in Nigeria. The West African Community announces a military council, and we will work to modernize the poorer nation's military in the Community. We also announce a plan to create a West African Federation (Similar to east african federation) by 2030. All member states will have full autonomy. Industries are mobilized to their fullest extents, with oil pumping in massive revenue.
​CSA: We begin the invasion of Cuba with 100,000 troops, landing in Havana, the Bay of Pigs, and Guantanamo Bay. We overthrow the 85 year old Raul Castro, yet Communist forces still occupy the eastern half of the country.
Cuban allies- We, North China, South China, Vietnam and Muscovy give in 2$ Billion to fight the CSA. We also send 34,000 volunteers as well. South China puts a temporary embargo of consumer goods on the CSA until the war ends. Eastern Siberia and Western Siberia both put an oil embargo on the CSA.
Chad- Boko Haram has fled into the Saharan desert in Chad. The war now will be harder to the lack of supplies in the desert.
​CSA: We blockade Cuba and set up a Capitalist interem government and prepare for annexation. We scarp our invasion of Texas plans and decide to align with them. We ask Texas for an Alliance due to the similaritys in our ideologies (if they refuse im done with these games because there's no legitimate way).
Texas- First, you don't have to threaten, and second, Texas accept your alliance, sending you Texan oil. Texas has plans to conquer Mexico and the Aztlan States, while they believe you have plans to conquer Western North America, the Caribbean, and Western Europe.
Nigeria: We request many fighter jets from foreign nations to strike the Boko Haram fighters in the Sahara. With Boko Haram out of Nigeria, we continue to try to get reunification. We build more Abu Bakr tanks, mass producing them on a massive scale. These tanks will continue to be upgraded as time passes. The industries are mobilized to their fullest extent, with agriculture creating food for the populace, which we export to the Republic of Lagos and other West African Nations as well, distributing the wealth among the populace. Our ideals are semi socialist almost, with all of the industries we have being used to improve the standard of living of the populace. The Oil money is being used to build infrastructure, to provide power for our country. Solar panels are being built on a massive scale. Already, 300 apartment buildings and 500 houses have been built in our housing project. Poverty is being greatly reduced, and Supreme Leader Muktar Ahmed Mohammed Aruwa says that before his new Presidential Palace is built, the entire nation must be housed.
CAR, DRC, Sudan and the RSA (Restored States of America): We send in 122 fighter jets for a bombing campaign against Boko Haram, ranging from state of the art F-22 Fighters to outdated Shenyang J-6.
Chad-We are proud to announce the near destruction of Boko Haram. While small terriost attacks may happen, actual fighting will probably end next month.
Lagos-We are considering rejoining Northern Nigeria, however we will decide after the year ends.
Texas- We send in 40,000 soldiers, 400 AFVs, 20 Fighter Jets, A frigate and 80 tanks to help in the war against Cuba. Note: The war will be know as The Confederate States Invasion of Cuba
CSA: We begin to put parts of the population in concentration camps to isolate the rebellion, anyone outside these camps without a CS/Texan uniform will be shot, this proves extremely effective as we begin to supply the populace with food to prevent them from growing it and supplying the insurrectionists. We plan after the war to invade Panama. (Secret) we want to split Latin America with Texas, we plan to give Mexico to texas while we get Latin America.
The provinces of Las Tunas, Holguin, Granma, Santiago de Cuba and Guantanamo are still in Cuban control.
Northern Nigeria: We heavily strike Boko Haram, giving them no safe haven. A man in the parliament suggests abandoning the sunni theocracy, in favor of a Democratic Republic, which the Supreme Leader agrees to. This will make it more likely for reunification. He is sworn in as temporary president. Meanwhile, more apartment buildings, houses, and Abu Bakr tanks are built. Wealth is being redistributed more fairly, and the Oil and Agriculture industries are mobilized to their fullest extent. We promise Lagos semi autonomy once they join.
Chad- We officially declare Operation Free Lake Chad a victory. Military Parades happen across Niger, Chad and Cameroon. Boko Haram controls no territory and is not a threat any more. Abubakar Shekau, leader of Boko Haram, will stand trial in October at the International Criminal Court in The Hague, Netherlands.
Northern Nigeria: A massive parade occurs celebrating the victory against Boko Haram. 4 new Abu Bakr Tanks are showcased. Industries are maximized to their fullest potential, with corruption eliminated, the oil revenue is distributed evenly among the populace. We begin our Solar Project to fill the gap once the Oil runs out. We also begin a technological industry as well. We announce Africa's first serious space program, with plans to get a satellite into space by 2020. We hope to get a man on the moon by 2030 and a man on mars by 2050. The housing project continues as planned. We announce a plan to modernize the Abu Bakr tank as time passes.
IBM-We will provided supercomputers for the Nigerian Space Program and help jump start the technological industries in exchange for our names to be on your space ships and satellites as advertisement for the next 15 years (2032).
CSA: We invade the provinces mentioned before. Cuba now controls Holguin, Granma, Santiago de Cuba and Guantanamo.
WAC: Guinea, Sierra Leone, Mali, Burkina Faso, Cote de'Ivoire, Gambia, Lagos, Guinea Bissau and Biafra would like to join. We are also ding a vote to decide the official HQ city of the WAC. (Please post the city you would like to have as HQ, only members)
**Northen Nigeria Diplomacy: We agree. We vote Abuja as the HQ.
WAC: Chad, Cameroon, Niger, Togo, Benin and Biafra votes for Abuja. Lagos votes for Lagos. All other countries vote for Accra, Ghana due to its central location in the WAC.
CSA: We land marines at Guantanamo Bay and begin to push east from occupied western Cuba. We consider using tactical nuclear weapons to bomb cities.
Northern Nigeria: Abu Bakr tanks continue mass production , and industries are maximized to their pullets potential. Wealth is redistributed, and Oil money is used to build up wealth. Our housing project continues, thousands of houses and apartment buildings have already been built. We continue our plan for Abuja 2030. We announce our plan to transform the West African Community into the West African Union.
Lagos: We would like an alliance with Northern Nigeria.
**Northern Nigeria Diplomacy: Agreed.
CSA: We continue pushed into the previously named provinces and put civilians into concentration camps to control the populace and prevent guerrilla attacks. We manage to assassinate Raul Castro. With a Republican majority and white majority we ask for a diplomatic, military, and trade alliance with the fellow white men known as the Boers. (secret) We ask if Quebec wants to divided the Northern USA in a future conquest.
Boers-We agreed.
Cuba-All of our country will probably be occupied next month. We will begin peace talks in Mexico City. (The CSA will present their demands next month, in September)
Quebec-We agreed on the conditions; Quebec gets Trenton and everything North of it all the way to the Pacific coastline on the North American Continent. Keep this as a secret, if anyone finds out then we could see war with every country on North America.
CS response: We will give you the upper peninsula New York through New England, and Ontario as we believe Quebec doesn't have sufficient manpower to take all of Canada (38mil) and the large population of New England (area mentioned would be about 14 million).
Quebec-That is why we are fighting together, I get every north of Trenton and you get everything South of Trenton.
Northern Nigeria: Despite Gambia being an Islamic Republic, it is not immune from criticism from West African Union countries. We demand Yahya Jammeh improve human rights and poverty in his country or he is at risk from being ousted from the Community. Secret - we plan with other West African Countries to intervene if Yahya Jammeh tries anything dangerous.
Gambia- We agree, we build 500 new houses and 20 new middle and high schools. We also give 15$ million in food to our citizens.
WAC: Senegal, Sierra Leone, Ghana and Lagos agree to intervene if Yahya Jammeh tries anything dangerous.
September
Edit
Cuba- Our country has fallen, CSA, please present your demands.

CSA: One word; annexation.

Mod (Treaty of Mexico): Cuba is annexed by the CSA. What is left of the old Cuban government flees to Colombia and then to South China, where they broadcast propaganda to the Cuban people to rise up against the CSA. The radio channel is called the Free Cuban Radio Channel, or the FCRR. Cuba is formed as a territory and under Military Rule due to end at years end.
Texas: We do a military parade in Houston, Austin and Dallas to the victory in Cuba. We pull out all our forces we sent to Cuba.
Oman: We build a patrol boat, drill a new oil-well in the south west and build a new mosque in the city of Muscat. We would like to have a trade deal and friendly relations with the UAE, Kuwait and the Gambia. We will offer oil to Gambia in trade for food. Stone blocks and surplussed Gambian food will be offered to Kuwait and the UAE in trade for guns, horses and camels. Any surplussed camels and horses will go on to Gambia.
UAE, Gambia and Kuwait: We agree.
California: We move our Capital to Reno, we ask the CSA for some weapons to fight Sonora, we ask for good relations with the CSA  
CSA: We accept relations with the California Republic. We propose to form the Quintuple Alliance of California, the CSA, Texas, Quebec, and the Boerstad.
Texas, Quebec, Afrikaner Free State and Cali: We agreed.
Northern Nigeria: Due to the industries being mobilized to their fullest potential, per capita GDP has risen to 10,000 dollars per person. We continue our policies. We hope that by 2025 we will have it rise to 20,000 per person. Corruption has been practically eradicated. We announce a Pan African National Congress in Abuja for all African countries to attend if they want. The time of the founding of the country that attends doesn't matter. We find a ACR that has been smuggled in illegally to a criminal business. Instead of destroying it, we inspect it and reverse engineer it, as the Fatimah rifle. It begins service in special forces, and we hope that around 2030-2035 it can become standard issue. Issues to be discussed at the Congress include Climate Change, Desertifcation, new inexperience government, the Boer Free State possibly expanding, and many more. We also hope to re - create the African Union.
Pan African National Congress- Every country comes except Rwanda and Sinai come. This will be once every year in September. We can also hold emergency meetings. We discuss climate change, deserticification, inexperience governments, the CSA annexation of Cuba and other things. The Boer Free State stops us talking about them trying to expand and Morocco stops any talks about Western Sahara, despite Western Sahara being own country. We also discuss the next 5 cities the Pan African National Congress (PANC) will be hosted. They are: Lagos (2018), Algiers (2019), Cape Town (2020), Accra (2021) and Addis Ababa (2022).
Boer-We ask for assurance by the CSA, Texas, Quebec and California. All agreed except the CSA and California, who have not responded.

CSA: We assure you and send 40 Abrams tanks.
Cail:we agree

CSA: We warn the PANC not to interfere with the BFS. We also station a flotilla of ships outside of the nation of KwaZulu (Eastern Cape). (secret to Cali and Texas) We propose to support you in a division of the nation Quad States. We decide to in response to the PANC discussion, we occupy Jamaica and send forces into the Caribbean Federations territories of Puerto Rico and Haiti. We also send 75,000 marines to occupy the Bahamas.
Texas: We agree, we want OTL Colorado and New Mexico.
Cali: we want OTL Arinzona and Utah
Every Latin American country except Paraguay, Ecuador and Uruguay: We demand that CSA aggression ends now! Otherwise we will declare war!
CSA: We have a few reasons on why that is dumb. #1, How can you invade me. #2 How are the different regimes of the new nations and the Colombians who have been fighting the socialist FARC rebels, to fight alongside socialist Venezuela. And how can the northern and southern parts of Brazil get along after this, the hate each other. And you might not want to forget the massive amount of landmines strateling the Chilean-Peruvian Border.
Reason: 1. The war will probably be airstrikes, naval bombardments of cities that along the Gulf Coast and the Caribbean Sea, invading small islands such as Barbados, and naval battles in and near the Caribbean Sea. There might (Like 20% chance) be a sea invasion of Venezuela or a sea invasion of Mainland CSA. 2. South and North Brazil have Okay relations, I mean how do you know they have bad relations? 3. All countries declaring war is responding to your aggression. Think this way, South Brazil annex Uruguay. Then, shortly after annexation, they declare war on Paraguay. You probably want to declare war in a coalition against South Brazil. And the landmines, this is a coalition, the army of Chile is going go to Colombia, take a train or drive to Venelueza, and start trying invade islands. or on a train or just go through Argentina.
I only invaded parts of the big islands not the entire thing, I will withdraw from the CF if you leave North American affairs alone. We also threaten to support Brazil if they move on Uruguay and we probably will support them.
Coalition: We agreed, we will get involve in affairs that are outside of Latin America.
We will leave if you leave us and the Quintalple Alliance alone.
Coalition: Agree
Cail:we agree
Oman: We send some spies in to the Yemen. We retrain our army in the latest battle tactics. Coastal fig and date farms are upgraded. Coastal roads are noticeably upgraded over the next 6 months.
Northern Nigeria: We reassure Boer free state we will not interfere in their affairs. In fact, we wish to begin diplomatic relations with the Quintalple allince. The per Capita GDP remains at 10,000$. The minister of defense hopes to create a more modern version of the Abu Bakr tanks with a more modern turret similar to Abrams or Leopard II, meanwhile we plan to reverse engineer JF17 fighter jets to produce our own indigenous model. We also want to inspect what Gambia is doing, their human rights record, and we also want to do with the Kabila regime (secret) (mod please show me both of their human rights record and show me if an intervention is worth it)
Human Right Records: DRC: There human right records are extremely terrible. This include murder and rape of own citizens, kidnapping, torture and prison work camps. Gambia: Gambia record is bad (The levels are Perfect, Great, Good, Okay, Bad, Terrible and None), however, they are improving and will be Okay by March, 2018.
**Northern Nigeria Response: We send in 20,000 troops into the Congo for peacekeeping. If Kabila doesn't surrender his power to a democracy we will oust him.(mod response for what he chooses to do) Btw, he still has a bit over 100,000 poorly trained undisiplined troops that will likely run after facing extreme pressure, he could still put up a fight though. However, Congolese rebels will join me and all of the opposition will join me. If he transitions to democracy, we will allow him to run, although due to his unpopularity, it is extremely unlikely he will be elected.
DRC: We will fight North Nigeria to the death! (Revolts break out across the DRC)
November
Edit
Trial: Abubakar Shekau is found to be guilty and wil be serving the rest of his life in prison.
Mod: Kabila is killed on the 15th of November. Democracy is established and immediate elections happen, Étienne Tshiseked, winner of the 2011 elections, becomes President. He offers an alliance to North Nigeria and ask for money to rebuild his country and build his army to fight rebels.
**Northern Nigeria: We agree and will help our African brothers. We also hope to build a mosque in Kinshasha.
DRC: We do not plan to build a mosque right now, as only 10% of our population is Muslim.
RSA: We join a military alliance know as the Western European-North American Alliance (WENAA), the countries in it is Paris, England, Wales, Scotland, Northern Ireland, Belgium, the Netherlands, Galicia, New England, Portugal, Rome, Castile, Albania, Greece, Bavaria, the Rhine, Bulgaria, Romania, Estonia, Lithuania, Latvia, Norway, East Canada, Cascadia, Great Lakes, West Ukraine, Milan, Venice, Genoa, Milan, Tuscany, Naples, North Germany, Pomerania and Silesia. We also sign a alliance with Israel, Kuwait, South Korea, Kingdom of Japan and the Caribbean Federation. We also guarantee the independence of the Quadruple States, Sonora, Rio Grande, Great Plains and the Yucatan. We also move our army near the Confederate border and the navy around 100 km off the shores of Virginia. Great Lakes does the same. We also send an offer to join WENAA to California.
Cali dip:we agree
CSA response: We offer alliance positions to Prussia, Hungary, South Brazil (we predict it will decline), East Australia. South Korea, Muscovy, Eastern Ukraine, Volgograd, Panama, Honduras, Catalonia, Portugal, East Germany, Belarus, and Crimea.
Mod: Prussia offer is rejected (Who is Prussia?), all other offers accepted except Muscovy, Volgograd and Belarus (They are upset about the invasion of Cuba). South Brazil offer is rejected due to tried invasion of the Caribbean Federation.
I saw some back country in Northern Poland and thought it was Prussia (because thats where it is
Oman: We prospect for oil in our interior deserts. Border security is tightened and police are put on alert for finding spies. A gun factory is built in Muscat. 100 border troops and 50 cops are called up. New mosques are built in Adam; As Sib; Al Ashkharah; Al Buraimi; Al Hamra; Al Jazer; Al Madina A'Zarqa and Al Suwaiq.
Northern Nigeria: The engineers have designed a new turret for the Abu Bakr tank. The new turret makes the tank look like a Chinese Type 99 tanks. These will begin production in 2020. Per Capita GDP remains at 10,000$ per person, the richest in Africa. The industries are mobilized to their fullest extent, the oil wealth is being equally distributed throughout the populace, the Solar Energy industry starts with the new housing project building houses out of recycled wood and using Solar Panels on them. The space program is going as planned. We embrace secularism, but ensure that Islam will be safe in any country in Africa. 
Cali:We invade Sonora with half our men, we ask for trade with CSA gives us oil we give you food. 
December
Edit
RSA: We declare on California, as we guarantee the independence of Sonora, dragging all of the WENAA members into this war. (Secret: We would, however, revoke this guarantee and help you fight Sonora (WENAA members will also help fight against Sonora), as long as you don't attack any WENAA members, countries guaranteed their independence by the RSA (Except Sonora) and leave the Quintuple Alliance)
CSA: We give California a million barrels of Oil in return for food. We also begin the "California Pipe Line" to ship de-salinized water to California. We also support California by using several Confederal fighter squadrons in the Invasion. With new members we rename the Quintuple Alliance to the Global Concord. We also send troops to Panama to help our ally their. We also with this war against the Concord launch a Blitzkrieg style assault over the Potomac, yet the war has turned into a stalemate due to Great Lakes and RSA both entrenched their forces before the war started. We also incite Pro-Confederate rebellion in Missouri, which was quickly crushed due to lack of support. We send marines to capture the Bahamas and Jamaica.  ​(Secret) We offer the Scottish military and economic support if they invade England. We also ask Quebec to strike their neighbors in support of our invasion of the RSA. We ask Texas to support us in the invasion of the Great Plains.
Scotland-We refuse and then announce your offer to the entire world.
​The WENNA and the Concord are at War officially.
European Members of WENAA and RSA allies: We are sending 800,000 soldiers, 6,000 tanks, 11,000 AFVs, 9,000 SPGs, 5,000 Towed Artillery, 1,420 MLRS, 1,200 fighters, 400 attack helicopters, 1 aircraft carrier, 40 frigates, 27 destroyers, 61 corvettes, the newly built battleship by North Germany called the NGN Hamburg (NGN stands for North German Navy), and 156 submarines.
Texas-Scared of the oncoming military force, we sign a white peace with the WENAA and withdraw from the Global Concord declaring ourselves neutral (Secret: We plan to swoop in and take some parts of the CSA when they are about to fall).
Muscovy-Seeing this as a chance to annex East Ukraine, we declare war on East Ukraine, a member of the Global Concord. Our forces spill across the border, taking Sumy, Shostka, Kharkiv, Konotop, Romny and surround the city of Poltava. West Ukraine has preceded a strike against them, heading for Kiev.
East Australia-Our navy is sent to destroy the New Zealand navy. We hope West Australia does not get involved.
War on the East Coast: Quebecois troops invade their neighbors with lightning speed but its starts to encounter heavy resistance as its forces enter Nova Soctia and the Niagara region of Ontario.
Oman: We continue to prospect for oil in our interior deserts. A new fruit cannery built in Muscat. 75 border troops and 50 cops are called up. New schools are built in Adam; As Sib; Al Ashkharah; Al Buraimi; Al Hamra; Al Jazer; Al Madina A'Zarqa and Al Suwaiq. We also used some  oil money to purchase guns and grenades from private companies and shady arms dealers. Oman wants to stay out of any war but will fight if needed. Oman improves education and infrastructure. Oman wants an alliance with any Middle Eastern nation (excludes Israel).
Northern Nigeria: Boko Haram has been purged from the nation. The per capita GDP is at about 11,000$, and industries are mobilized to their fullest poteintial. Oil wealth is redistributed evenly among the populace, and our solar energy industry is producing a lot of clean power. Our standing army numbers around 300,000, and reserves are 1,000,000. We hold massive parades celebrating the fact our 20,000 strong forces in Congo stopped a dictator who had over 100,000 troops. **We request an Abrams tank from the RSA for inspection and technological transfer. We will pay for it. We also announce the creation of the elite Nigerian Foreign Legion, a force in the Nigerian Army made of foreign recruits. Some are recruited from the Congo. We request a human rights inspection in the infamously corrupt Central African Republic and Burundi, to see if an intervention is worth it. We also want to have reunion talks with Biafra, as Lagos and Northern Nigeria are on the verge of reunification.
RSA: Request is polity declined, as we need the tanks right now to fight the CSA. If we win the war, we will send a tank.
Human Rights Record: The Central Africa Republic record is bad and Burundi is Terrible.
Biafra: We will never join the evil Nigerians, as we always remember the Nigerian Civil War and those who died for our country.
Cali: we march south and have taked El Rosario, we put Jim crow Stlye law on to the mexican ciztains.
European Members of WENAA and RSA allies: Our soldiers have landed in Virginia, flanking the CSA forces who fighting in Northern Virginia. Our army will be as the North American Army of WENAA (NAAWENAA)
RSA: We offer a peace deal to the Global Concord: 40% of the CSA army goes to the RSA. 30% goes to the Great Lakes and 20% goes to the Great Plains. The RSA will annex Virgina and Great Lakes take Kentucky and Great Plains take the CSA counties bordering them and California gives 10% of army to Sonora and another 10% of the army to Cascadia. California secede all counties bordering Cascadia to Cascadia and same thing for Sononora as well as Los Angeles. Panama will be under international control and countries not mention yet will have a new government. If you agree, we will help fight against Muscovy.
Cali Dip: We tell the RSA to shove it up you know what.
Northern Nigeria: We invade Burundi. Our economy is working fine, and same with our military. We seek to set up a unity Government. We offer Pierre Nkurunziza an opportunity to surrender and participate in the Unity Government. Lagos, seeing Northern Nigeria's rapidly expanding economy and war on terrorism, as well as a strengthened military and a leader in Africa, would you like to rejoin your Nigerian brothers since the year has ended? Our nuclear weapons program is almost finished.
Lagos-We will do a poll, but we a little more autonomy then a province, the highest level of administrative divisions. And if your GDP per capita is less then 8,000 USD, we could leave.

Northern Nigeria Response: We agree.

Lagos: We vote 82.1% to join and 16.7% to remain independent. We will officially join next month. Until then, we would do talks in Lagos about joining your country.
Burundi: We agreed.
Cali: we bomb and keep moving south in Sonora.
CSA:. We send half of our navy to the Atlantic to stop any more landings, yet we are fighting with the NAAWENAA Navy..We send small amounts of forces into St. Louis We demand a RS surrender as they are fighting a war on 3 fronts.
RSA-We refuse. The NAAWENAA is invading Virginia and are rapidly moving through countryside due to lack of military units.
Oman: We continue to prospect for oil in our interior deserts. A new fruit cannery built in Muscat. 175 border troops and 150 cops are called up. Annti-aircragt guns are built in Adam; Muscat; As Sib; Al Ashkharah; Al Buraimi; Al Hamra; Al Jazer; Al Madina A'Zarqa and Al Suwaiq. We also used some oil money to purchase guns, mortars and grenades from private companies and shady arms dealers. Oman wants to stay out of any war but will fight if needed. Oman improves education and infrastructure. Spies are sent to Baluchistan.
February
Edit
Lagos-We join Northern Nigeria
WENA-We take the city of Charleston and the capital of Virginia.
Nigeria: Reunification parades are held throughout Nigeria celebrating reunification. Per Capita GDP has risen to 12,000 $ per year. Education becomes a universal right, and industries are mobilized to their fullest extent. We use Lagos new oil wealth to make our nation even more wealthy. We expand our solar program. We request a status update on our Nuclear Weapons Program. Meanwhile, we expand our military to have 400,000 troops and 1,100,000 reserves. We announce our new fighter jet, the Eyo Ita jet, a copy of the Pakistani JF-17.
Nigerian Nuclear Program: We will finish building the 8 KT bomb next month. We also like permission from the Nigerian government to build 2 nuclear power plants. Power Plant one will be built 40.5 km north of Gashua, know as the Gashua Power Plant, it will generate 400 MW Per Hour and will take 8 months to build. Power Plant two will be built 64.5 Km away from Gusau, know as the Gusau Power Plant and will make 600 MW Per Hour and exactly one year to build. If approved, consturction will start in May, 2018. Gashua Power Plant will finish in January, 2019 and Gusau Power Plant in May, 2019.
**Nigerian Response: We accept your asking for approval.
North Germany: I am planning to restore Germany. I am asking Bavaria, Rhine and Austria if they want to join me. I am proposing the European Reunification Coalition with

The Parisian Republic and anyone else who wants to restore there country in Europe. I am building up my army by building military vehicles and recruiting more troops. I am also begining to improve my railway network - I am beginning to construct a Berlin-Wittenburg-Hamburg-Beremen-Oldenburg hight speed railway. I am asking to join

Western European-North American Alliance (WENAA).
WENAA: Reject your offer due to already being part of WENAA. We are also asking for more military units to fight the Global Concord. The NGN Hamburg has also destroyed 2 Confederate destroyers and a Confederate Corvette.

North GermanySorry, I did not know

Mod: Paris and no countries join yet, focusing on matters in North America. Rhine, Bavaria and Austria refuse and say they never join you even if you had 100 Million Man Army and 100 Trillion GDP.

North Germany:Why?
Because they like their independence and are focusing on the war in North America.

Eastern Cape: Taking the chance, we invade Afrikan Free State, taking the towns of Bela-Bela., Kroonstad, Welkom and fighting for Pretoria amd Johannesburg. The Western Cape also invades Harrismith, Memel, Volksrust and Warden.
CSA: We prepare defenses outside Columbia SC and Savannah Georgia. The Government is evacuated to Birmingham Alabama. We focus our navy on the Atlantic and attempt to derail the Allied naval invasion. We pull out troops from occupied West Virginia to defensive lines outside in North Carolina and Virginia in a hope to stop the invasion. We continue with light armored infantry units to push into wide open Missouri forming a temporary new state government. We offer East Cape/KwaZulu a cease fire in Africa to transport the Boer population to the CSA.
East Cape: We say no, we want Afrikann Free State. This is our chance.

Jesus Christ I'm talking people not land.
Still won't have a ceasefire, this is practically a race with Western Cape to take as much land from the Boers.

Mod: Taking the chance, South China, North China, Volgograd, East and West Siberia, North Korea, Vietnam, Belarus, Manchuria, Laos, Cambodia declare war on the CSA, hoping to free Cuba and turning the Confederate States of America into the Communist States of America.
We ask South Korea to hold the line, we also ask California to send ships and marines west. We also ask Taiwan to join the war. Meanwhile in response to the communist declaration of war a revolutionary group known as they Christian Fundamentalist Organization of America launches a coup. The CFOA begins mass conscription. (Secret) We offer the Mormons weapons and their own state of they rebel against the WENNA.
Mod: 1. South Korea is loyal to the RSA, not you. 2. The RSA and Great Lakes begin a mass assault taking land near the border and joining with the rest of WENAA. 3. Taiwan accepts, yet make a dumb decision, not knowing the communist countries were building up forces for the invasion in Chinese coastal cities. 4. California can't send forces, since the Quadruple States are in the way, who strongly declared neutrality. Attacking them, will result in MASSIVE coalition. 4. Mormons refuse, as they have been given respect by the WENAA. They do not announce the secret.
Java: We declare neutrality for this global war. However, we keep to build our military, 30,000 troops are recruited, and we start build tanks, ships, and aircrafts. [Secret] We plan to unify Indonesia again. However, we still maintain a good relation with Sumatra, Borneo, and East Indonesia. [End Secret]. We start a research for renewable energy and technology. We also start an industrialization to boost our economy.
Nigeria: We request a UN report on the human rights situations in some African Countries. We want to decide where we should intervene and where we shouldn't. Industries are mobilized to their fullest extent, while the GDP Per Capita Currently stands at around 12,000 dollars. Our military currently stands at around 500,000 active soldiers and 1,000,000 reserves. Nigerian nationalism is on the rise, and many citizens see it as their duty to protect democracy and development in Africa. Nuclear weapons begin production. We also seek to turn the West African Community into the West African Federation by 2030. We join the war against the CSA on the side of the RSA.
Human Rights Record: What countries do you request?
Somalia, Sudan, Libya, South Sudan, Chad, and also we want to make sure that Rwanda has stopped plundering The Congo's wealthy (currently in real world it is doing that by backing rebel militias) if they don't stop plundering, we will intervene militarily.
Human Rights Record-Somalia is terrible, however, they have no central government. Sudan is bad. South Sudan is democratic, yet still bad. Chad is bad and a democracy. Rwanda is bad. They are also a democracy.
**Nigerian Responce: We send troops into Somalia to restore a central, democratic government. They are Muslim since we don't want Somalians to feel they are under crusader occupation. Also, we provide finicial aid and advisors to Rwanda to help them and get them to stop pludering the DRC's wealth.
CSA: We begin a guerrilla warfare campaign. It is very effective. We control Arkansas, Florida, southern Kentucky, Mississippi, Alabama, Georgia (Except Savannah), Cuba, inland North and South Carolina, Southern Missouri and South Eastern Virginia.
Java: We continue build our military. We ask for alliance with Malaysia and Western Australia [Response Needed]. We plan to build bridge to connect Java and Bali. We also officially open the Kertajati International Airport.
Mod: Both countries agree.
Community content is available under
CC-BY-SA
unless otherwise noted.