| | |
| --- | --- |
| | This Map game is now closed since it was not edited for 7 days in a row! |
It is early 1800s, the world is on the rise. In Europe the Napoleonic Wars are being waged. In The America's, colonization still hold a massive amount of land for the Empires of Europe. In Australia, British settlement has just begun in New South Wales, in Asia, China and Russia are growing while the British are taking India. and In Africa, colonization is start, and something big is growing. The Dominion of Drakia has been growing since its birth in the 1780s. Will the world go on this way or will they eventually unite to stop the Draka.
shall be on the talk page-Orwell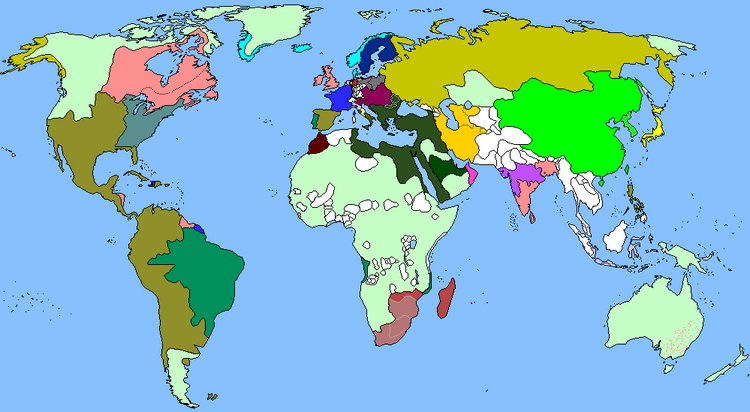 Creator: Mr.Orwell
Head Mod:
Right hand Mod:
Mapmaker: Im going to guess chiltern-Orwell
Algorithm Mod:
Open for settlement-Orwell
North America
Edit
South America
Edit
Dominion of Drakia - Big Brother
Morocco -
Angola -
Mozambique -
Ottoman Empire -
Ottoman Empire -
Persian Empire - Warrioroffreedom123
Japan -
Korea -
China - Captainjohnrex
British Raj -
Mughal Empire -
Australia
Edit
New South Wales -
Under the Yoke
Edit
Fuck it were starting
Drakia: We begin to expand into Southwest Africa to form a new colonial territory. We also enslave the populations of Northmark and Upper Zambezi. We also continue to supply our troops and British soldiers with the Ferguson rifles.
Community content is available under
CC-BY-SA
unless otherwise noted.